Couplings (TB Wood's)
TB Wood's offers a solution for any coupling application with several lines of high-performance couplings. 
Wood's lines of elastomeric, disc and gear couplings have a reputation of reliability and flexibility. Whether you choose from our Sure-Flex®, Dura-Flex®, Form-Flex®, Jaw, HD Elastomeric, or Gear couplings, you can be certain you're getting the very best of Wood's performance and quality.
Built for durability, designed for extreme conditions
Ideal for use with variable-speed and variable- torque applications
No lubrication
No maintenance
4-way flexing action absorbs all types of shock, vibration, misalignment and end float
---

Sure-Flex® couplings
TB Wood's Sure-Flex® couplings use a rubber (EPDM), neoprene, or Hytrel sleeve and have exceptional torsional flexibility. Their 4-way flexing action absorbs virtually all types of shock, misalignment, and end float. With Sure-Flex couplings, the need for lubrication and maintenance is eliminated. As a result, these couplings provide clean, dependable, and quiet performance for a variety of applications. Product Features Lubrication-free design provides quiet, reliable performance Flexible sleeves available in EPDM, Neoprene, and Hytrel Fast and easy installation without bolts, gaskets, covers or seals Uniquely designed teeth and lateral flexibility accept both parallel and angular misalignment without wear Choose from an extensive offering of sizes, using BTS, bushed, clamp and spacer flanges Four-way flexing action absorbs extreme torsional shock and vibration

Gear Couplings - Disc Couplings
TB Wood's Gear couplings are dependable and provide efficient operation in high torque applications. Six varieties of gear couplings are available to match the specific performance and operational application requirements you require.
Product Features
Stock styles include "F" Series, "C" Series, Deckflex, Deckflex Mite, Poole MXB, and Poole K-100 Series. Engineered specials are also available
Many configuration are available:
Rated for higher speeds
Good inherent balance
Space-saving size and low weight with high torque capacity
Piloted gear fit for higher speeds and less vibration
Torsionally stiff
High performance and heavy duty couplings also available
---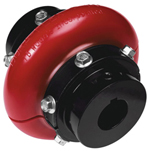 Dura-Flex® couplings
TB Wood's Dura-Flex® couplings are designed from the ground up using finite element analysis to maximize flex life. Perfect for a wide variety of applications -- including those with uniform to heavy shock loads -- Dura-Flex® couplings employ a light weight element that absorbs shock loading and torsional vibration. These couplings are available in stock bore-to-size (BTS, Taper-Lock® and Sure-Grip® bushed (QT) hubs.
Product Specifications
Bore-to-size (BTS), Sure-Grip bushed (QD), and Taper-Lock® hubs are available
Specially designed "split-in-half flex element" moves stress away from bond, extending flex life
Directly interchangeable with similar couplings for fast and easy replacement
One spacer size eliminates problems with varying between-shaft spacings
Requires no lubrication, minimizing maintenance and downtime
Flexible polyurethane material offers superior chemical, dynamic, and weathering properties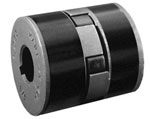 Jaw couplings
TB Wood's Jaw couplings are designed to meet high-quality standards while remaining affordable. Wood's offers two Jaw-type elastomeric couplings: a straight L-Jaw coupling available with four insert materials and a straight C-Jaw coupling designed for high-torque loads. Both are 100% interchangeable with industry-standard designs.
Product Features
Spiders available in Burna-N, Urethane, Hytrel and bronze
L-Jaw and C-Jaw versions offer reliable solutions for uniform to heavy loads
L-Jaw straight-jaw coupling is directly interchangeable with industry standard couplings
C-Jaw uses easily replaceable individual cushions for maximum reliability with heavy torque loads
Available in a wide range of sizes using BTS hubs
Ideal solutions for applications ranging from standard-duty electric motors to steam turbines and high-torque motors